The Vault | Queens Village, NY
Performance & Art Space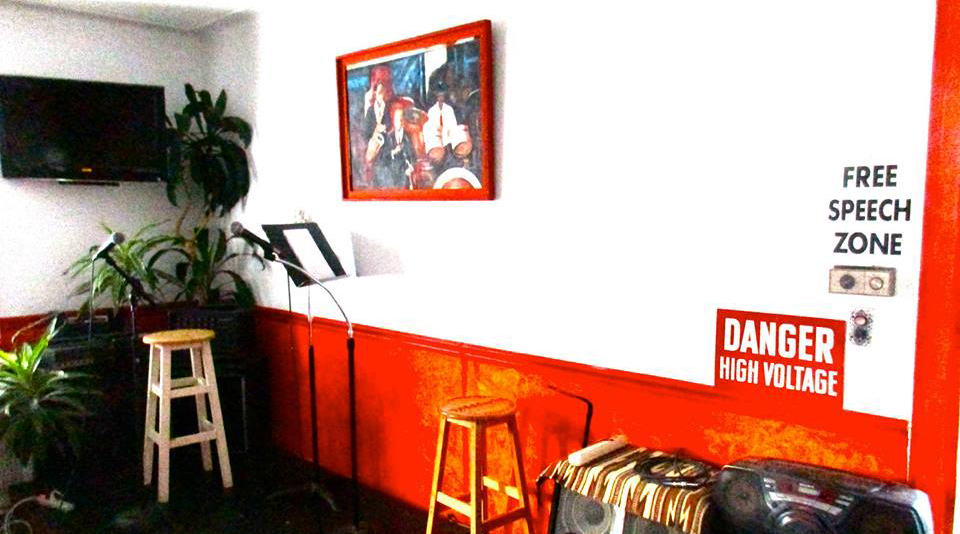 The first Vault Zoom performance gathering was a huge success., an intimate gathering, and a passionate mix of music and poetry. Overall most enjoyable and enlightening.
I know that some of you planned on attending, but had power and internet issues- no worries, we'll see you next time.
The night was recorded and I will let everyone know when it goes up on Youtube.
Until we can gather live again, lets make it monthly, every second Saturday.
The next one is September 12 @ 8pm.
If you have already let me know you were interested )whether you attended Saturday or not)
I have you on the list to send the Zoom login info. for future zooms.
If you didn't get back to me and are interested, just email me back and I'll put you on the list.
Hope you Stay healthy & happy, Tone
Upcoming Live Events

COVID-19 UPDATE
We will be following all current recommended
CDC guidelines in regards to COVID-19
during all live hosted events.
Performance Poets Association @ the Vault
open Mic upcoming  event list for 2022
Time : 8pm to 10:30pm
1/8/2022        Features : Kenjazzo & Sara Abdelnaly
2/12/2022    Features : Jacqueline Carr & Desmond Rivers
3/12/2022        Features: Peter V Dugan &  Viviana Duncan
4/9/2022    Feature event National Poetry Month: Feature from Journey To group (JTR'S) – The Archives : Poet of the Day (April 21)
5/14/2022    Features:    Yuyutsu RD  Sharma      & Eric Freeman
6/11/2022    Feature event: Read from Your Work open Mic & Book fair
7/9/2022    Features:  Jack Zaffos &  Margareth Debrosse
8/13/2022        Feature event    Woodstock Bands   Lyrics open Mic
9/10/2022        Feature:    Marilyn T Keen & friends
10/8/2022        Feature event:  Edgar Allan Poe & other Writers of Tales of Horror & the Supernatural Open Mic
11/12/2022    Feature : Robert Gibbon & friends
12/10/2022    Feature event:PPA @ the VaultOpen Mic & Year Celebration  And So the Earth has also made another Orbit around the Sun Which also Rises to A New Dawn In 2023
All Are Welcome To These  Events
Your Host & Friend,  James Thomas Romano
_____________________________________
Rosie Rinsler Show back on Mar. 26
The Vault  December 2021 Calendar
Sat. Dec. 13   Performance Poets Association Open Mic 8 pm
_____________________________________
Dec. 11th 2021 PPA@ the Vault
Time 8pm to 1030 pm
Open Mic
_____________________________________
Winter DATES AVAILABLE FOR SHOWS: Jan. 29,  Feb. 5, 26
First come first served. Text or call to reserve: 718-479-2594
Vault – Upcoming Events- November 2021
___________________________________
The Vault  November 2021 Calendar
Sat. Nov . 13   Performance Poets Association Open Mic 8 pm
Sat. Nov. 20 Rosie Rinsler Show  7pm
_____________________________________
Nov 13th 2021 PPA@ the Vault
"Read from Your Book…
Open Mic  & Book Festival …"
Come to this unique event. Read from your Collection of
Writing or earlier ones, & bring copies to offer for sale.
If you are a musician bring your cd of your choice to see as well.
Come network with each other & the publishers you used .
IF You Don't Have A Book or CD,  No Problem.
All Are Welcome!!!
Donations Accepted for the House
Time 8pm to 1030pm
Hosted by James Thomas Romano
_____________________________________
Rosie Rinsler is hosting another show on Nov. 20.    at 7pm.
Welcome musicians poets and writers to the show to entertain and enjoy a fun evening.
Love and support for all plentiful. Please come and share a special evening with special people.
_____________________________________
Winter DATES AVAILABLE FOR SHOWS: Dec.14 & 18  Jan. 29,  Feb. 5, 26
First come first served. Text or call to reserve: 718-479-2594
_____________________________________
Loc: 90-21 Springfield Blvd. Queens Village NY 11428
daVault@aol.com
718-479-2594
TheVault.org