The Vault | Queens Village, NY
Performance & Art Space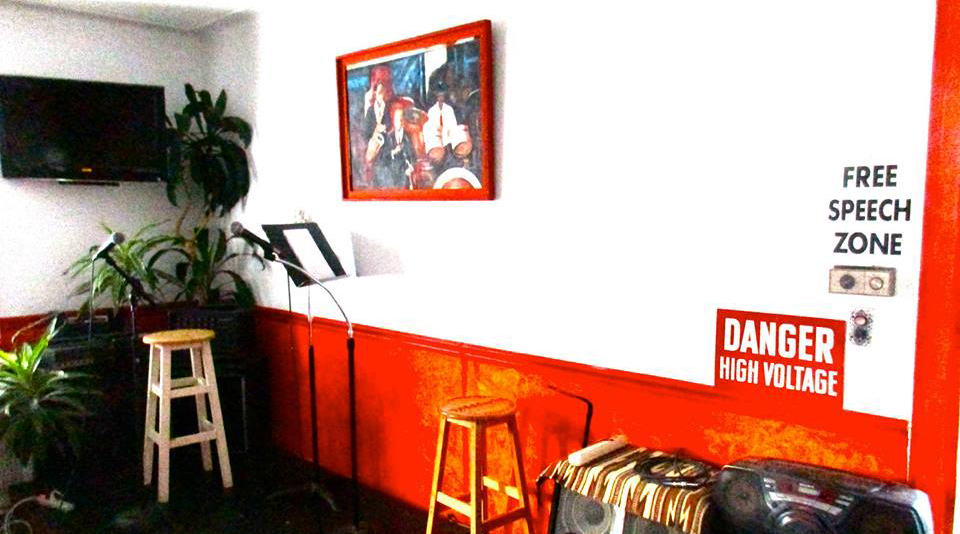 The first Vault Zoom performance gathering was a huge success., an intimate gathering, and a passionate mix of music and poetry. Overall most enjoyable and enlightening.
I know that some of you planned on attending, but had power and internet issues- no worries, we'll see you next time.
The night was recorded and I will let everyone know when it goes up on Youtube.
Until we can gather live again, lets make it monthly, every second Saturday.
The next one is September 12 @ 8pm.
If you have already let me know you were interested )whether you attended Saturday or not)
I have you on the list to send the Zoom login info. for future zooms.
If you didn't get back to me and are interested, just email me back and I'll put you on the list.
Hope you Stay healthy & happy, Tone
Vault Good News Update
We are happy to announce that Joan Tyler will be sponsoring and hosting two upcoming open mic events @ the Vault
May 21
June 18
both @ 8pm
Note: These open mics are open to everyone, and all art forms (unlike Joan's past Vault events open only to her singing students)
___________________________________
The Vault  March  2022 Calendar
Sat. Mar. 12   Performance Poets Association Open Mic 8 pm
Sat. Mar. 19  "Fast Speaking Women & Other Outspoken Femmes Poetry Festival…" 630-1030pm
Sat. Mar. 26  Rosie Rinsler Show  7pm
___________________________________
Performance Poets Association @ the Vault Open Mic series  on March 12th 2022, 8pm to 1030pm  Hosted by JamesThomas  Romano Is Proud to Present
on Jack Kerouacs Birthday as Well Womens History Month  an Evening of With  Two Poets of Beat Generation Style & Rock  & Roll !!!
Viviana Duncan was shot out of her mothers uterus landing in Argentina. At age 10 landed in NyC.
She learned English with words becoming a weapon of expression.At age17 thanked her parents for being the transportation to get to this planet & left.
Her mission as a writer is pushing boundaries of sex, religion, & politics .
She has a law career , hosts the Spanish radio show" Accidents Your Power & Justice" on WPAT a.m.
Hosts Stark Reality open mic@ Studio 353 2nd floor west 48th st Ny. Ny 10036
A Safe Venue for A Free Speech Zone For All for those Who like to Walk Write Dance Sing Entertain in All Art Forms on the Wild Side of  NYC's off  Broadway theater district & organizes Singles for over 40 events in NYC
And Peter V Dugan, Nassau Poet Laureate ( 2017-19) He was born & raised on Long Island & graduate of the New School in
NyC. He has authored Five Collections of Poetry & over the years his poetry has been
published in numerous anthologies & magazines both online & print
Some Notably Grub Street Literary & Arts  magazine, Soul Fountain , Reckless Writing; the modernization of poetry by Emerging Writers of the 21st Century( 2012 & 2013)
He co edited & formatted The Writing Outside the Lines , Wyld Syde Press 2012, & co edited Long Island Sounds 2015, Wyld Syde Press.
In 2017 two of his poems were Nominated for  Pushcart Poetry  Prize 2014,
Awarded the Long Island Bards Poet Mentor Award Initiative 1993,
Honorable Mention American Academy of Poetry … Peter V Dugan also a Performance Poets Association
Staff  & Hosts  an Open Mic  Reading series  @ the Oceanside Library , long island ,  NY
Open Mic open to All  Donation suggested $ 3 for these 2 non profits
PpA & the Vault  Hope For The Children Foundation
See You @ This  Literary Event Cheers  Your Host & Friend,  James Thomas Romano
___________________________________
"Fast Speaking Women & Other Outspoken Femmes Poetry Festival…"
In Honor of Womens History Month
On March 19th 2022   6pm to 1030pm       Host  James Thomas Romano
Features   Viviana Duncan  Linda Kleinbub  Marilyn T Keen   Linda Melodia  Madeline Artenberg
Paula Curci  Lala Hocheiser  Sara Abedelinaby  JacquelineLCarr  Babette Albin
Plus   Open Mic   All Welcome        Books & Other Items @ event
$10 donation   towards Women Empowerment   Charities   jimmyjamespoetone@gmail.com
___________________________________
Rosie Rinsler Show back on Mar. 26
Rosie's shows art always very popular and most enjoyable and welcoming. Don't miss it
___________________________________
Spring DATES AVAILABLE FOR SHOWS:   April 30, May 7,14
First come first served. Text or call to reserve: 718-479-2594
Performance Poets Association @ the Vault
open Mic upcoming  event list for 2022
Time : 8pm to 10:30pm
1/8/2022        Features : Kenjazzo & Sara Abdelnaly
2/12/2022    Features : Jacqueline Carr & Desmond Rivers
3/12/2022        Features: Peter V Dugan &  Viviana Duncan
4/9/2022    Feature event National Poetry Month: Feature from Journey To group (JTR'S) – The Archives : Poet of the Day (April 21)
5/14/2022    Features:    Yuyutsu RD  Sharma      & Eric Freeman
6/11/2022    Feature event: Read from Your Work open Mic & Book fair
7/9/2022    Features:  Jack Zaffos &  Margareth Debrosse
8/13/2022        Feature event    Woodstock Bands   Lyrics open Mic
9/10/2022        Feature:    Marilyn T Keen & friends
10/8/2022        Feature event:  Edgar Allan Poe & other Writers of Tales of Horror & the Supernatural Open Mic
11/12/2022    Feature : Robert Gibbon & friends
12/10/2022    Feature event:PPA @ the VaultOpen Mic & Year Celebration  And So the Earth has also made another Orbit around the Sun Which also Rises to A New Dawn In 2023
All Are Welcome To These  Events
Your Host & Friend,  James Thomas Romano
_____________________________________
Rosie Rinsler Show back on Mar. 26